Biketoberfest 2013
In respect and memory to Agoston Rosivalls death at Moscow Raceway we dont "raced" this weekend ourselves and like to make a little "review" from 2013. We had a so fantastic time with Ago over the last years that time for this memory is needed.
We miss him and his lovely, crazy character!!!
Rest in peace, hear heavy metal and enjoy some nice girls my dear!
But we also like to say:
It was a fantastic year with a lot of nice projects and bikes from our friends and customers!
Highlight in this year are Coco and Andreas with their dream bikes! Andreas used his weekends and a lot of energy to built a Demon specially for Coco. And she is very happy with this bike, mostly she like the lightness and the easy handling of this bike.
Now Andreas starts to build his own one. Frame and engine (tuned), all is prepared for the first ride in 2014!
Than you will see them as "duo" on several racing events.
We cross our fingers for you and wish all the best.
Also Fabio Frankenberger and his friend Adrian joined a lot of racing events this year and did some very fast laps.
This winter his father Thomas prepares "finally" the 1100ccm engine for the bike and Fabio cant wait to do a first ride with more power ;-)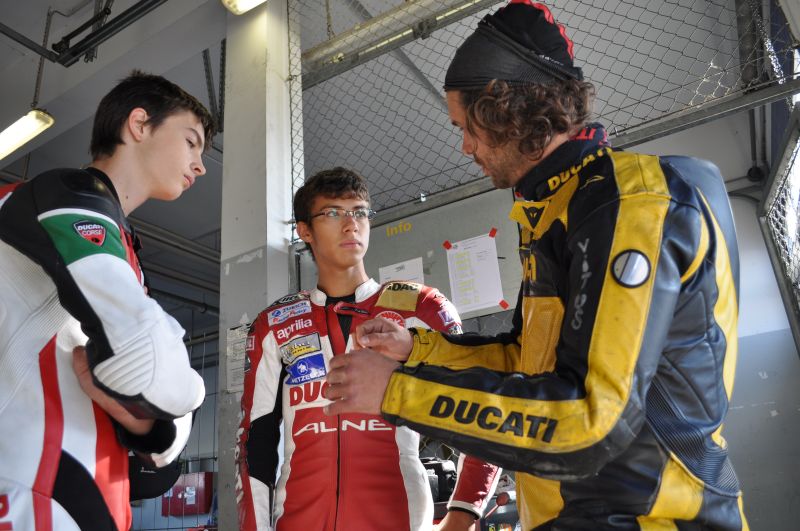 Our team member Ingo Jokisch got his first race bike (848) and raced with some friends more than successful for the first year! Congratulations!
Jörn Widderich, we won the Supertwins Championship with him last year, now rides a 4 valve bike, 996S, in the Pro Thunder class and also there he is known for some very good positions!
Also very intersting, Gian Piero Tamburini presented his AD MAIORA 4valve project with Multistrada 1198 engine with dry clutch, 170hp and a total weight of 145Kg.
Arne Bast did the Cafe Racer Sprint race, 1/8 mile, and surprise, he won!
Congarulations!
Kim Bucher finished also his 2V racer and had big experience and success also! Now he sold it to his father and both racing together, Kim on 999 and his father on 2V racer. Big success for next year and see you all again!
We cant wait for season 2014 and are very excited in your new projects and bikes.
Also many thanks for this nice season to Ago, Ingo, Fabio, Thomas, Coco, Andreas, Kim, Anton and all others who supported us so much!

With this in the sense,
best regards, your Ducati Aprilia Kämna Team